The IGNITION project team over at the University of Salford has some exciting news about the development of its own nature-based solutions Living Lab.
The first phase of the project, which was tendered out to local green infrastructure developer SEL Environmental, involves building an experimental rain garden with comparative solutions to showcase as well as investigating green infrastructure.
The Living Lab will provide a fully functioning example of how nature-based solutions can work together to reduce the threat of climate change.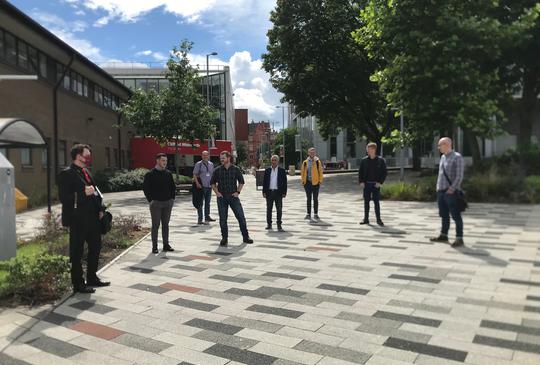 Professor Hisham Elkadi, Principal Investigator of the project, said: "We are excited to watch phase one as it develops over the next five weeks. Once complete, the Living Lab will offer unrivalled GI experimentation technologies."
In other news, the kick-off meeting for Phase 2 has taken place today to discuss the development of the project. The meeting was held on the University's main campus (with online attendance option) and was attended by members of the University's IGNITION research and Estates teams, the project's Principal Designer representative from Faithful+Gould, as well as project partners from GMCA, RHS, Bruntwood, Groundwork, City of Trees and University of Manchester. The £850k bid will see the addition of a living wall, a green roof and much more to the main university campus, with the construction also being completed by SEL Environmental. Construction of Phase 2 was agreed to begin 21st September and be completed in December of 2020.
Professor Elkadi said: "Phase 2 is being constructed by the same developer and will incorporate an integrated system with a large-scale living wall, green roof and sustainable drainage trees. These elements are crucial for urban adaptation to climate change impacts because they prevent extra water going into the drainage network, reducing urban heat, raising climate awareness and improving building performance. This large installation will offer new insights on GI infrastructure connectivity and feasibility for the wider public use."
The Living Lab official launch is expected in April 2021, as the lab opens to visitors from the academic, business and local communities.
Head over to the IGNITION project website to find out more about the innovative work of the project.