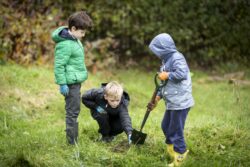 A new scheme is being led by City of Trees and is open to all schools across the city region.
As part of the initiative, City of Trees will supply free trees as well as organising a 'how to plant' day with pupils.
They provide the tools, expertise, as well as undertaking a site visit, drawing up a design bespoke to each school.
Millions of trees
This is part of their plan to green Greater Manchester and plant millions of trees across the city region, helping to address climate change, aid green recovery and create better places for people and wildlife.
The charity has also been working hard to put robust COVID-19 compliant plans in place to ensure the safety of both pupils and staff.
Further maintenance is considered for each scheme with schools provided with an information pack, as well as a quarterly newsletter for top tips and future funding opportunities.
In addition, City of Trees have created a number of free resources for schools for outdoor activities linked to Key Stage 1 and 2.
Trianna Angele from City of Trees comments; "At City of Trees we create our sessions to link into the curriculum making sure we educate and enable teachers to delve deeper into many subjects at all key stages."
She adds "In a time where student strikes as part of the climate emergency are happening globally, our tree planting sessions provide a way children can immediately relate to the natural world."
To find out more, get in contact with the team on the City of Trees website.