Low-carbon heating specialist Daikin has signed an agreement with Greater Manchester Combined Authority (GMCA) in a first-of-its-kind public and private joint approach to decarbonisation.
This is the first time a Japanese company and GMCA has signed a memorandum of understanding for mutual cooperation.
The agreement was signed by Andy Burnham, Mayor of Greater Manchester, and Masatsugu Minaka, Chairman of the Board of Daikin Europe N.V. and Senior Executive Officer of Daikin Industries Ltd. at the Mayor's office in Manchester on Friday 3rd February.
Daikin UK and GMCA have been working together for more than ten years towards Greater Manchester's target of becoming carbon neutral by 2038.
The partnership will provide GMCA with a dynamic purchasing framework to deliver Daikin air to water heat pumps for social housing across the city by 2025, making the procurement process more straightforward and cost effective.
The installation of Daikin's heat pumps will be a key part of GMCA's Social Housing Decarbonisation Fund, which will see up to a thousand heat pumps delivered to social housing across Greater Manchester.
Previous projects delivered by Daikin UK and GMCA include the Smart Communities Project Greater Manchester, which saw Daikin heat pump water heaters installed between 2013-2017.
Hiroyasu Ishikawa, Managing Director of Daikin UK, said: "This pioneering partnership between Daikin and GMCA will see Greater Manchester take significant steps towards its zero-carbon by 2038 goal. Other cities should look at this relationship as a best practice approach to meeting decarbonisation targets in social housing.
"Over the course of a heat pump's 15-year lifespan, a typical three-bedroom home could save over 24,000 kg of CO2 compared with running a gas boiler, and achieve cost savings of more than £3,000. Multiplying that by 1,000 will deliver significant environmental and financial benefits, particularly as the price of gas rises. And if all 23 million gas boilers in the UK were replaced with heat pumps, the savings in wholesale gas costs would be worth around 1.2% of GDP (£26 billion).
"With almost 100 years of experience in heat pump technology, Daikin is the only manufacturer in the world that designs and produces equipment for heating, cooling, ventilation, refrigeration and freezing, as well as the compressors and refrigerants used in these technologies. As a leading player in the European heat pump heating market, we are committed to leading energy for change and expect our know-how to play a key role not only in the decarbonisation of the GMCA but the entire UK."
Mayor of Greater Manchester Andy Burnham said: "This landmark partnership between Greater Manchester and Daikin builds on years of collaboration and friendship between our city-region and Japan. It's a vote of confidence in our ambitious, science-based plans to become carbon neutral by 2038, and shows how we're using our international outreach to make a positive difference to people right here in Greater Manchester.
  "We want to connect the dots between decarbonising our homes and buildings, fostering net zero innovation, and developing skills in the green industries of the future. As part of our Trailblazer negotiations with the Government we are making the case for more devolved control in these areas, and for the role that city-regions have to play in addressing shared global challenges. This partnership with Daikin will provide a strong foundation for more opportunities to bring those green jobs, skills, and investment to Greater Manchester."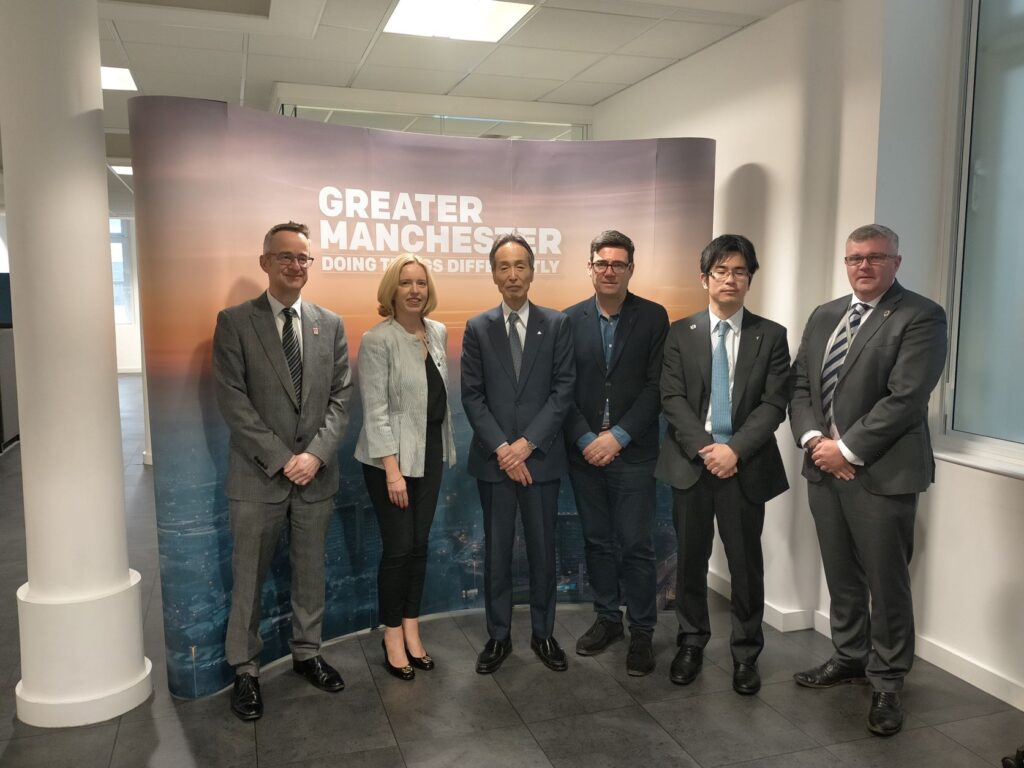 ---