In the run up to the Greater Manchester Green Summit, we're previewing what to expect on the day and hearing from our partners.
---
What is the Electricity North West 'Environmental Action Plan' and what does it aim to achieve?
The Environmental Action Plan (EAP) sets out our commitments to become Net Zero by 2038 and describes how we can enhance the environment across the North West. This sits within our overall business plan which outlines our investment of £2bn in the next five years, to keep power flowing and enable the North West to reach its 2038 net zero target.
We have committed to 21 goals that sit within six complementary delivery programmes:
Carbon emissions management

Network investment

Operational response

Supply chain management

Biodiversity management

Training
A key component of the plan is to continue to decarbonise across our own organisation, reduce our environmental impacts and further look after our natural environment. As part of this, we are developing a carbon reduction road map in line with our Science-based targets to track progress against our journey to Net Zero.
We are making significant investments in the following areas: low loss alternatives, noise mitigation, Polychlorinated biphenyls (PCB) contamination removal and undergrounding for visual amenity. We have also developed successful operational response capability to tackle leakage of either Sulphur hexafluoride (SF6) and assisted cable fluid.
A key part of our carbon reduction road map is the electrification of our fleet and encouraging the transition of our company cars to EVs via our car policy and carbon literacy training to encourage behavioural changes.
Along with our Science-based target commitment we have established a strong supply chain engagement programme including our Supply Chain Charter to help track and reduce our Scope 3 emissions.
How is Electricity North West protecting biodiversity?
When it comes to biodiversity, we are one of the most ambitious DNOs. We have developed an industry leading bespoke GIS mapping tool to establish the biodiversity and natural capital baseline of our corporate estate, which will help us measure the long-term successes and opportunities of our biodiversity programme.
In terms of our sites, we're enhancing the biodiversity within 100 sites over the next five years by initiating an ambitious conservation management programme, with many of these  falling within the Greater Manchester area. This undertaking will involve the introduction of a traditional lowland hay meadow mowing regime that will encourage native wildflowers and be of benefit to pollinating insects. We have also committed to planting 50,000 trees on our estate.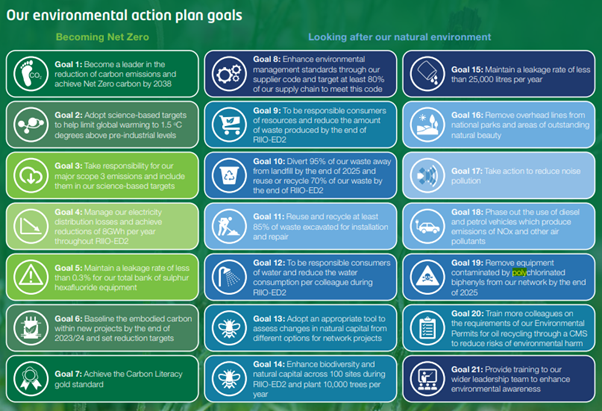 Both Ben and Richard will be on the Electricity North West stand at the Green Summit and would love to talk to you more about what the organisation is doing in Greater Manchester to protect and enhance the environment.