In the first of our Greater Manchester Green Summit 2023 preview blogs, we hear from Daikin. Greater Manchester signed a landmark partnership with the Japanese manufacturer earlier in the year, a first of its kind agreement that will see the city-region become a test-bed for new net zero technologies and services.
---
We all have a social responsibility to the natural environment. And here at Daikin, we're putting this commitment at the top of our agenda.
Our products have become vital to people's lives around the world. However, heating and cooling systems emit large amounts of CO2 from energy consumption during use, and from the impacts of their refrigerants. We also have to consider carbon emissions produced during the manufacturing and distribution of these products.
As a manufacturer, Daikin has the responsibility to manufacture our products in a sustainable way. We have a major social duty to protect the natural environment. And, as such, we are creating products that solve, not create, problems. We are determined to pave the way for the industry with our leading environmental technologies.
And, we're committed to helping homeowners make a difference on an individual level, by providing the solution to reducing their carbon footprint in their own homes. How? We're championing the rollout of heat pumps across the UK.
How will heat pumps help us reach Net Zero?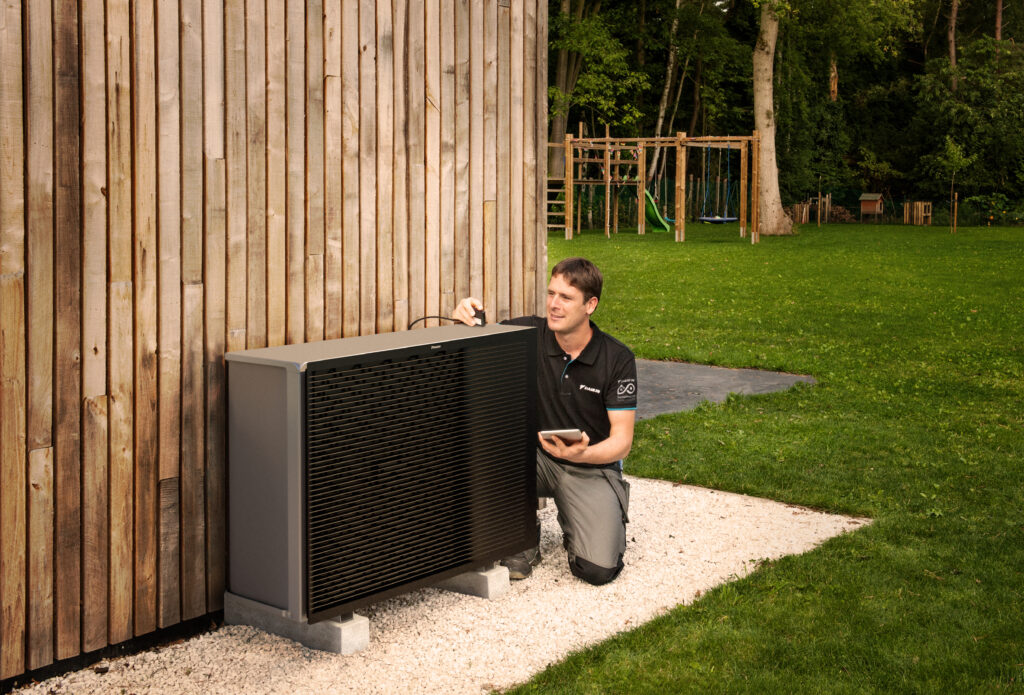 In order to meet Greater Manchester's target of net zero by 2038, switching to sustainable energy is critical. This means we need to replace our petrol and diesel cars with electric vehicles. And we need to swap gas and oil-fired boilers with low-carbon alternatives.
Heat pumps offer a highly efficient, low-carbon alternative to the traditional boiler. But instead of generating heat through burning fossil fuels, a heat pump simply moves it around, extracting from the surrounding environment.
There are a few different types of heat pump. But they all have one thing in common: they're powered mainly by renewable energy, making them one of the most sustainable heating solutions available today. In fact, our latest figures show that having a heat pump installed does more to reduce your carbon footprint than giving up your car, or going vegan.
They're also the economic solution. Heat pumps use less power to run than standard heating systems. Heat pump systems can be three or four times more efficient than an electric heater. Did you know that a heat pump can save you up to £3,000 in energy bills, compared to a gas boiler? Plus, in England and Wales, the government will give you £5,000 to make the switch through the Boiler Upgrade Scheme (BUS).
Quite simply, heat pump technology is changing the face of home heating.
What environmental challenges does Greater Manchester – and the rest of the world – face?
Humanity is facing its greatest ever challenge: climate change has become a global emergency. Human activity has already caused global temperatures to rise by more than 1°C from pre-industrial levels, and if we continue with 'business as usual', we would risk catastrophic crop failures, famine and flooding affecting 80% of people across the world.
Currently, the expected rate of warming is 3°C by the end of the century. But we need to reduce that figure to below 1.5°C if we want to mitigate the most serious risks to people and the planet.
To achieve this target, the UK Government has committed to achieving Net Zero Greenhouse Gases by 2050. However, Greater Manchester has gone one step further. As one of the UK's largest metropolitan areas, it is attracting great attention for setting the challenging goal of achieving carbon neutrality by 2038, significantly bringing forward the national target year of 2050.
How is Daikin working with GMCA to decarbonise the city-region?
To help achieve these ambitious net zero goals, Daikin has joined forces with the GMCA in a collaborative partnership. This partnership means that we will work together over the next five years to deliver the large-scale introduction of heat pumps across the city.
The far-reaching plans include replacing existing gas boilers in approximately 1,000 homes with Daikin's low-carbon heat pumps. As an example of this strategy, Daikin is working with the Southway Housing Trust to help deliver on the decarbonisation and improvement of many of their least energy-efficient homes. We've committed to installing 200 heat pumps to make these homes greener, warmer, and more cost-effective to heat.
We'll also be introducing our sustainable commercial heating and cooling systems in larger buildings across the city.
On top of this, we're addressing the current skill gap in technicians trained to install heat pumps across Greater Manchester and nationally. That's why we're working with GMCA to train installers. Working in cooperation with schools, colleges and re-employment centres, we're providing training programmes and establishing an official qualification system with the aim of creating jobs and revitalising the economy.
These steps should ensure we make a significant contribution to the decarbonisation of the Greater Manchester area, and help to deliver on the impressive target to achieve net zero by 2038.
What can you do personally to make a difference?
Every single person can make a difference. Even the smallest steps matter when we all work together. There are many ways to reduce your carbon footprint and make less of an impact on the planet. Just one less long-haul flight per year will dramatically reduce your footprint, as will ditching your car or switching to an electric vehicle. What about going vegan? Cutting out meat will make a huge difference to your food footprint.
There are many changes you can make to your home environment too. Energy-efficient refurbishments will help to reduce the footprint of your home, while opting for renewable sources such as wind, solar, bioenergy, and hydroelectric power will also make a big difference. And, of course, switching to a low-carbon heat pump will reduce your footprint and your fuel bills in one simple move.
You can also make smaller daily changes. Recycling rubbish helps to reduce your impact, as does reusing everyday items. Walking or cycling instead of using transport will add up on a daily basis. You could even plant a tree. Trees are nature's solution to the problem, absorbing CO2 from the air.
Here at Daikin, we're making major advances to reduce carbon emissions in our technology and our operations. Partnerships such as the one we have with the GMCA are just one step along our journey towards the destination of net zero. Our responsibility to the natural environment is our top priority and our prime focus. And we are determined to play our part in creating a cleaner, greener world.