Upgrade you vehicles to electric and you will be helping to reduce air pollution across our city-region.
With the Greater Manchester Clean Air Zone expected to be introduced from spring 2022, there is now government funding available to help eligible vehicle owners upgrade their vehicles.
A Clean Air Zone is coming from spring 2022
Check your vehicle today to see if you would have to pay a daily charge to travel in the Zone and find out more about the funding available to help you switch to cleaner vehicles.
Find out more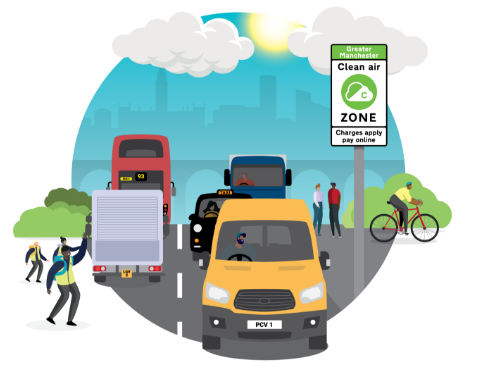 There are lots of simple actions your business can take to make a difference. As well as switching to electric vehicles encourage your staff to use of public transport and cycling, provide staff training on fuel efficient driving techniques and journey plan to reduce unnecessary mileage.
For more help and advice on the things your business can do to become a zero carbon business visit the Bee Net Zero site today. Together we can make a difference.
Find out more