In July 2019, the Greater Manchester Combined Authority declared a climate emergency. As we begin to radically decarbonise the city region, action must be taken to adapt to the extreme weather that 'baked-in' emissions will bring.
As our current infrastructure will struggle to cope with increased rainfall and extreme heat, we must embrace nature-based solutions to alleviate this stress.
Here's an insight into the growing investment in nature-based solutions, from both private and public sources, across Greater Manchester.
1. The IGNITION Project, Greater Manchester
IGNITION is a ground-breaking project that aims to develop innovative financing solutions for investment in Greater Manchester's natural environment. This project, backed by €4.5 million from the EU's Urban Innovation Actions initiative, brings together 12 partners from local government, universities, NGOs and business. The aim is to develop the first model of its kind that enables major investment in large-scale environmental projects which can increase climate resilience. By 2038 this will enable an increase in Greater Manchester's urban green infrastructure coverage by 10% from a 2018 baseline.
To find out more about the IGNITION project, search for the hashtag #IGNITIONGM or follow @GMGreenCity on Twitter.
2. Kampus – A new Garden Neighbourhood, Manchester
Manchester-based developers Capital&Centric are coming to completion on the canal-side development, Kampus, that puts large-scale greenery at its heart, literally.
3. Stockport's Mailbox building goes green, Stockport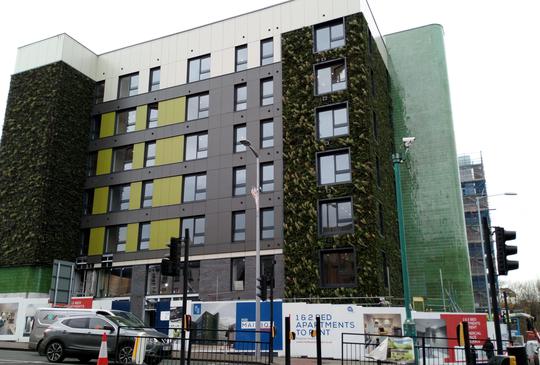 Stockport has created the largest total area of green wall in the North of England in their commitment to increasing biodiversity in the built environment.
4. Mayfield Park, Manchester
Plans to create Manchester's first new public park for more than 90 years have been submitted to the city council.
5. Great Ancoats Street overhaul, Manchester
Developments of one of the city centre's biggest roads hope to transform the area into a 'European-style' boulevard and will add 70 trees along the route.
6. Northern Gateway Development, Manchester
The £1 billion development along the Irk River Valley hopes to be "a green thread connecting Victoria Station to Queens Park.
7. A park in the sky at Stockport's bus interchange, Stockport
Plans for the new Stockport bus interchange include a publicly accessible 2-acre green roof, creating a new park for the community.
8. Piccadilly Gardens Transformation, Manchester
Amongst other measures to improve the gardens, it has been specified that the Pavilion's concrete wall be softened, transforming it into a green 'living wall'.
9. Northern Roots, Oldham
Northern Roots is creating the UK's largest urban farm and eco-park on Snipe Clough, 160 acres of stunning green space in the heart of Oldham, Greater Manchester.
10. Botanical rooftop gardens on First Street – Roofff, Manchester
The First Street area will be developing three bars and eight restaurants in a new rooftop garden on the 10th floor of the Q-Park car park, with 360-degree views of the Manchester skyline.
Follow @gmgreencity on Twitter to keep up to date with all the latest developments.