This weekend we braved the weather to take part in the Winter Wetland Bird Blitz. Take a look at what we found on the River Irwell.
It might have been a wash out for some across Greater Manchester, but this weekend saw volunteers helping out to do their bit for wildlife conservation.
The 2020 Winter Wetland Bird Blitz, which took place on Sunday 12th January, surveyed the River Irwell for key species of bird which over-winter in Greater Manchester throughout the colder months.
In the North West, the River Irwell provides a safe haven for wintering ducks and is an important habitat for many invertebrates, fish, birds and mammals. Running annually since 2017, the Winter Wetland Bird Blitz survey has previously revealed large numbers of tufted duck and goldeneye in the area. Last year alone, volunteers counted 1,601 birds from 22 different species.
Natural Course project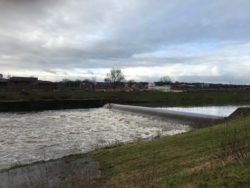 The one-day survey is partnered with the monthly Wetland Bird Survey (WeBS) which is organised by the British Trust for Ornithology. The Winter Wetland Bird Blitz is led by the Greater Manchester Ecology Unit (GMEU) and is an important part of Natural Course, a 10-year initiative to improve the water environment of North West England. The project is supported by the EU LIFE programme.
The Winter Wetland Bird Blitz takes place over a morning, and involves a count of water birds up and down the river, giving a snapshot of the current populations. The River Irwell flows for 39 miles from its source at Irwell Springs in the Pennines, until it reaches the Manchester Ship Canal. It runs through urban areas and is described as 'heavily modified'. However, thanks to a concerted effort by many projects, groups and organisations, work to clean up and improve the river has been taking place and wildlife is returning.
This year, the survey started at 08:00 in different sections of the river. One volunteer looking at the Irwell in the Salford area recorded five male goldeneye on the water as well as other wintering ducks and geese, and a range of other birds including redwing, fieldfare and meadow pipits.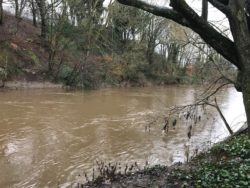 Mike Beard, Natural Course Project Officer, says:
"Regular monitoring of species such as wetland birds provides us with vital data and evidence, helping to understand more about where these birds are congregating over winter. 
One section of the River Irwell is designated as a Site of Biological Importance (SBI) because of the regionally significant numbers of wintering goldeneye and tufted duck. Our records show their numbers have been declining in line with the national trend, so the River Irwell remains a stronghold for these species and really is an important habitat for them."
Valuable volunteer opportunities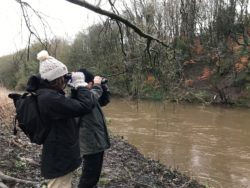 Surveys like this one not only provide valuable data for conservation research but also offer volunteer opportunities for a wide range of people.
Zoe, a volunteer who took part in the Winter Wetland Bird Blitz, says: "I really feel like I'm contributing to something bigger. By dedicating just a few hours of my time, I'm helping out with key conservation work in the area I live and it gives me a chance to get out and about and keep active."
Look out for the results of the Winter Wetland Bird Blitz on the Natural Course website and on our Twitter account.
Find out about other volunteer opportunities in Greater Manchester and do your bit for wildlife and the environment.