Trees are the literal totem of the environmental movement, and we are acutely aware of their benefits for people and planet. We know a leafy suburb or a tree-lined avenue are more pleasant places to live, travel and work. As we begin to face more extreme weather conditions we also know these greener areas will be more resilient to heat waves and flooding.
Street trees can include: Amenity trees, SuDS enabled street trees
Whilst trees have a hugely important part to play in rural land management and forestry, planting them in the urban environment provides a unique set of benefits covering multiple environmental, social and economic areas. Also, when you supercharge these trees with sustainable drainage systems (SuDS) they have even more potential to manage increased rainfall in heavily concreted areas.
It's important to bear in mind that in order to maximise the benefits street trees can provide, careful consideration must be given to the right tree, planted in the right location and maintained in the right way. This is particularly relevant with air quality, an area street trees perform extremely well on, as trees not only soak up pollutants from the air but also act as a physical barrier and disperse polluted air away from pedestrians when planted correctly.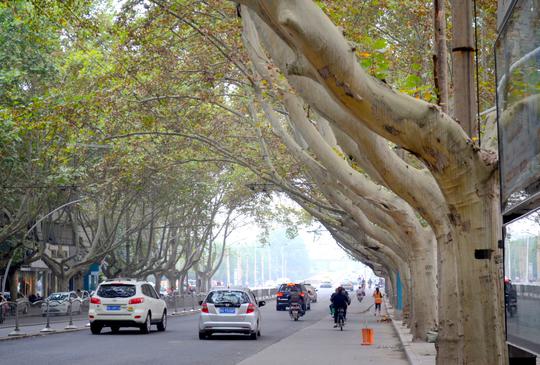 How do we know the benefits?
While more green space is widely perceived as beneficial, the IGNITION project wanted to drill down into the detail of who these benefits effect and how and why they're so powerful. As part of the project, research was undertaken by project partners GMCA and BITC to review available evidence on the benefits of nature-based solutions. These solutions included green roofs, green walls, street trees, (SuDS), urban parks and green spaces. Over six months, the project reviewed:
1000+ evidence items
five urban nature-based solutions
12 benefits across social, environmental and financial areas; such as health and local economic growth
This evidence base, available to download alongside supporting resources here, will remain a live repository of information, updated with new studies when they become available. Watch our 'How to use the evidence base' webinar here.
There are 193 evidence items within the evidence base for street trees.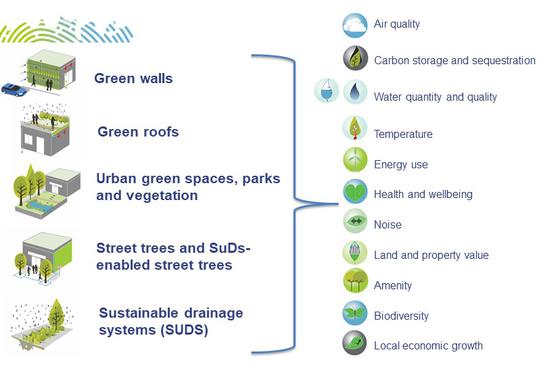 What did we find?
Street trees can help us to mitigate climate change by:
soaking up 5.5kg of carbon per tree a year (the equivalent weight of 37 bananas)
storing around 230kg of carbon per tree (the equivalent carbon to 810 car miles)
Street trees can help us adapt to the effects of climate change by:
soaking up 43% of rainfall, this is 78% for a SuDS-enabled street tree!
reducing the surrounding air temperature by 3oC, and the underlying surface temperature by 11oC
Street trees can help restore our natural environment by:
removing around 0.2kg of nitrogen dioxide and 0.1kg of particulate matter per tree per year from the air
filtering 70% of nitrates from water runoff
providing corridors of connectivity between green spaces in urban environments for small mammals and insects
reduce noise levels by 4 decibels per tree
Street trees can support our health and wellbeing by:
providing an accessible form of urban nature whilst taking up a small amount of land
lowering our blood pressure and stress levels when time is spent in sight of and walking around nature
reducing antidepressant prescriptions levels
reducing early childhood prevalence of asthma by 29%
reducing exposure to UV radiation
Street trees can provide financial incentives for developers, owners, occupants, and businesses by:
increasing property value by around 5% and rent value by around 6%
increasing customers willingness to spend on products by 10-50%
increasing restaurant patronage by 30-50%
reducing crime levels by 12% for every 10% increase in canopy cover
Examples of street trees being used in local improvement schemes are easy to find, like on Prestwich High Street in Bury, with thousands more on the way in Greater Manchester through City of Trees to help us tackle air pollution. Keep an eye out for the IGNITION nature-based solutions Living Lab at the University of Salford that will host interconnecting street trees and nature-based solutions, whilst monitoring and researching their performance.
With this wealth of evidence out there it's time to start making smart decisions about how and where we plant trees to help our communities tackle climate change and improve lives. To quote a famous proverb; the best time to plant a tree was 20 years ago, the second best time is now.