Creating a new buzz around Greater Manchester!
The perfect size for cocktails, mixed drinks and pretty much anything served in a rocks glass.
The sip straw is a neat 5.5" (14cm) with a small bore, and is the perfect size for cocktails, mixed drinks and pretty much anything served in a Rocks glass.
12 months ago, the Manchester Bee Paper Straw was launched in Greater Manchester as part of a range of initiatives to help reduce single-use plastic waste in the Greater Manchester region. The sustainable Bee straw has flown into drinks everywhere from The Etihad to the Christmas Markets. There's even a customer who takes them over to his Manchester-themed pub in Mallorca!
This new straw may be shorter, but it packs the same sting. Just like its taller colony-companion, the Manchester Bee Sip Straw is 3ply, printed with soy ink and made from food safe, sustainable paper. It's also FSC certified, recyclable and much stronger than many paper alternatives. As with the original straw, a donation from each box will be made to the We Love MCR Charity. So far over £1,000 has already been raised to help young people and communities across the city.
With the Department for Environment, Food and Rural Affairs confirming their plans to ban plastic and biodegradable 'plastic' options by April 2020, paper is left standing as the only realistic eco-friendly disposable choice. Of course, the most sustainable thing you can do is not use any straws or go re-usable…..that way there is nothing to throw away or recycle in the first place!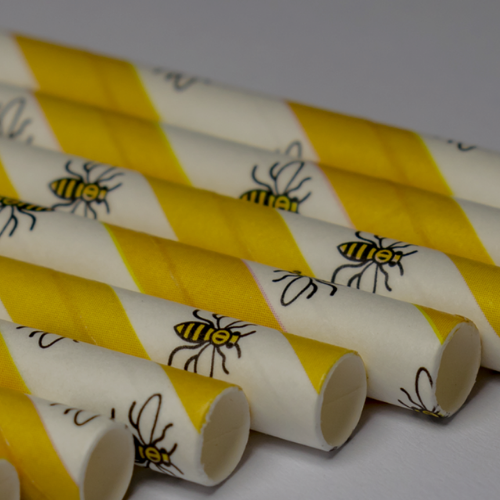 Where to buy
The Manchester bee paper sip straw is offered at a specially discounted price for hospitality operators from local catering supplier Stephensons. Click here to buy.
Greater Manchester has launched the first city-region wide plan to drive down avoidable single-use plastics!
PlasticFreeGM asks businesses, organisations and individuals to pledge to take action to reduce avoidable single use plastics across Greater Manchester. PlasticFreeGM works with campaigning partners to provide information and advice to guide more sustainable choices. A number of sector specific campaigns are taking off to offer relevant support and information on reducing single use plastics.
Read more