The campaign
PlasticFreeGM asks businesses, organisations and individuals to pledge to take action to reduce avoidable single use plastics across Greater Manchester. By making better choices about the products we use, the way we work, and the way we live our live, we can all make a positive change to our city-region. Since the campaign's launch in 2018, businesses, organisations and individuals have pledged their support to help us to stamp out avoidable single-use plastics in Greater Manchester. We'd like to say a big thank you to each and everyone of you for helping to make a positive change to our city-region.
How you can help
On this site you'll find lots of information, advice and guidance to help you reduce the amount of single-use plastics you use. We want to help you make the right choices – whether that's choosing to remove some products (always the best option), choosing a re-usable alternative (next best option) or switching to easily recyclable items.
If you would like to help us stamp out single-use plastics in our city-region and become carbon-neutral by 2038. The first step is to sign the pledge and commit to taking action to reduce avoidable single-use plastics across Greater Manchester. By making a commitment today you can help to make Greater Manchester one of the greenest UK city regions. We are always adding new content to our site so keep checking back for further information.
Sign the pledge…
Together, we can make a change.
Sign the pledge and help us to make Greater Manchester one of the greenest city regions in Europe.
Our partners
The GMCA worked alongside a number of individuals and organisations to bring you the PlasticFreeGM campaign. Those involved with this campaign researched, reviewed, discussed and considered the products, behaviours, systems, and choices available (and those that we recognise are currently lacking) in reducing single-use plastics, and in more generally shifting towards a more sustainable future. If you feel that any of the advice we are offering needs to change or can provide any key pieces of knowledge, please get in touch.
Make a change
It is estimated that 50% of plastic products currently made are disposable i.e. to be used once and then thrown away
Reducing the amount of avoidable single-use plastic we use can have a huge impact on our environment. With only 9% of the world's plastic waste being recycled, and plastic items typically taking around 400 years to degrade (some releasing toxic chemicals in the process) we need to take action now.
Making the right choices
It's not always easy to make the most sustainable choice, and any choice we make has an impact on our planet. #PlasticFreeGM aims to talk openly about the difficulties and pitfalls of trying to make sustainable choices, offering practical advice and support to businesses and organisations struggling to work out what steps to take for the best.
What is the best option?
Create no waste at all – This applies most to items like drinking straws, where you could make the decision to simply do without and only offer straws to people that need them.
Go reusable where possible – As a general rule, moving from disposable to reusable is more sustainable. This applies to items like plates and cutlery. There are a number of studies that show that overall, reusable crockery and cutlery is better for the planet than any type of disposable.
Choose items that can be easily recycled – If you are going to use single-use items, like take-out coffee cups, drinking straws, or napkins, try to make sure they are made from easily recyclable materials. As a business we advise that you always talk to your waste management company to make sure the alternative items you choose can be properly recycled or composted. In Greater Manchester, residents cannot put compostable items in their food and garden bin at home.
Factsheets
New legislation – England
Subject to parliamentary processes, a new ban will come into force from October 2023. This will include a ban on the supply of single-use plastic plates, trays, bowls, cutlery (including plastics that are labelled as compostable, biodegradable or bioplastic), plastic balloon sticks, and certain types of expanded and extruded polystyrene food and drinks containers.
Our factsheets will be updated in due course to reflect these changes. In the meantime please refer to Defra's consultation response.
PlasticFreeGM has worked through some of the 'worst offenders' in terms of avoidable single use plastics (straws, stirrers, takeaway containers, hot and cold drink cups, and cutlery) and offers advice and guidance on how to make more sustainable, low carbon choices.
Our 8-step guide to reducing plastic waste in the Tourism and Hospitality sector will help you to develop your own action plan and offers practical advice to get you started. Our factsheets talk through the minefield that is biodegradable, oxo-degradable and compostable materials. They offer the best advice on making a change taking into account carbon footprint, responsible disposal, recycling or composting routes, and other practical factors. We aim to make it easier for businesses to know that they are making the right choice in an area that can sometimes be baffling.
Facts
A few good reasons to make a change…
Government action
An important aspect of tackling single-use plastic waste is innovation in more sustainable products and processes. We need significant investment in alternatives to single-use plastic, and in the technology to recycle and upcycle products, creating a circular economy where resources are not lost. This needs to happen on a much larger scale, and at the same time, we need investment in the plastic recycling industry in the UK to develop the capacity of the domestic recycling market and stimulate market demand for these materials.
There is a real need for early Government action, and we welcome the release of the Resources and Waste Strategy for England. We will continue to lobby the Government in this area.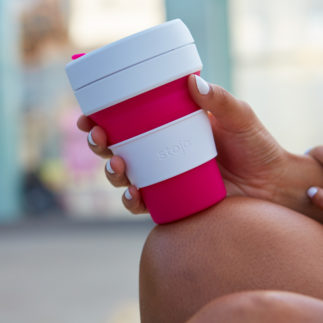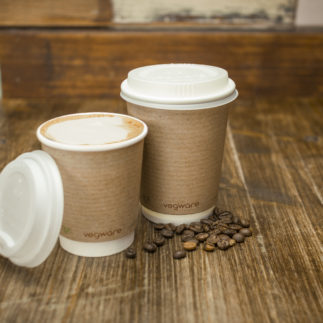 Why target avoidable single-use plastic?
This issue isn't an easy one. The answer is not as simple as plastic = bad. If plastic products are made to last and are reused again and again, and then recycled at the end of their life, they can be a sustainable option. Some single-use disposable plastic items are less avoidable. For example, single-use plastics used in medical testing that are discarded safely to avoid contamination and impacts on human health.
The problem is in our prolific use of avoidable single-use plastic items, like plastic drinking straws, plastic drinks stirrers, and disposable coffee cups and lids. These are all examples of items that if made of plastic are used on average for around 20 minutes, but can take over 400 years to degrade.
Plastic doesn't breakdown at a chemical level (it doesn't biodegrade or compost), it simply degrades. This means it breaks down into smaller and smaller pieces, a process that can take hundreds of years. This process releases CO2, increasing our carbon footprint, and leaches chemicals that can be dangerous to wildlife, soil, eco-systems, and human health. The tiny pieces of plastic that result from a plastic product degrading, termed micro-plastics, also get into ecosystems, wildlife, and even our bodies.
What about recycling?
Recycling a single-use plastic product uses energy and water, and can require more virgin plastic to create a 'recycled' product that's fit for use. Currently, only nine per cent of the world's plastic is recycled – a problem because most plastics are not biodegradable and typically take more than 400 years to degrade, a process that can release toxic chemicals into our environment.
Please do recycle plastic products that you can.
Recycling a plastic product is much better than disposing of it in the general waste. As a business we advise that you always talk to your waste management company to make sure the plastic items you use can be properly recycled. In Greater Manchester, the only plastic items residents can recycle in their mixed recycling bin at home are plastic bottles.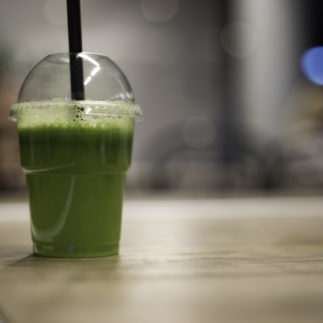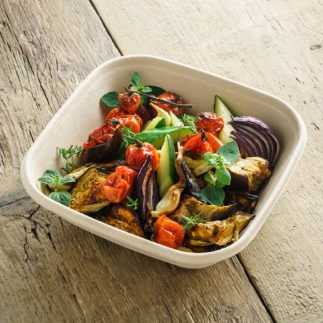 What is the best option?
Our aim is to eradicate the use of avoidable single-use plastics and we need your help to do it. We're starting with a focus on food, drink and hospitality businesses. So if you run a cafe, take away, restaurant, or bar, what can you do to help? The best options (in order of positive impact) are….
Reduce your use – Say no to items like straws and stirrers and simply do without, keeping a small stock on hand for people who might need them, e.g. someone with a physical disability who might struggle to pick up their drink and require a drinking straw.
Go reusable wherever possible – choose reusable crockery, cutlery, and cups, and avoid creating rubbish or recycling in the first place.
Recycle and compost – If you really can't do without a disposable option, choose items that are easily and widely recycled or composted, and take responsibility for making sure the products you buy are dealt with in a sustainable way when they come to the end of their life. For example – if you buy 100% compostable take away containers, you need to have a composting service in place that can take them away to be composted. In Greater Manchester, residents cannot put compostable items in their food and garden bin at home.