The damaging effect that single-use plastic can have on our environment is well known. We're not saying all plastic is bad, but all too often a lot of single-use plastic is used out of habit rather than actually being needed. The damage that plastic pollution has on our environment is largely caused by plastics that end up as litter and the amount of carbon that is produced across its life-cycle – from manufacturer, to use, to  disposal.
The single-use plastic ban
So far in England, the Government has already put in place a ban on single-use plastic straws*, cotton buds and stirrers.
From 1st October 2023, new laws on single-use plastics come into force. From this date the following single-use items will be also be banned in England.
Plastic cutlery
Plastic plates, trays, bowls*
Plastic balloon sticks
Certain types of single-use expanded and extruded polystyrene cups and food containers*
*Exemptions apply (see below)
This is your chance to think differently and shift from single-use to #reuse. Take a look at our factsheets below for advice on what to use instead.
What this means for your business
If your business supplies any of the items listed above, from 1st October 2023 (subject to Parliamentary approval), you will not be able to provide these items to your customers either on your premises or online (unless an exemption applies). This includes retailers, takeaways, food vendors and the hospitality industry.
The ban on these items will include:
online and over-the-counter sales and supply
items from new and existing stock
all types of single-use plastic, including biodegradable, compostable and recycled
items wholly or partly made from plastic, including coating or lining
'Single use' means the item is meant to be used only once for its original purpose.
Lets look at the ban in more detail.
From 1st October you, must not supply the following to members of the public…..
Single-use plastic cutlery and balloon sticks. The ban on 'cutlery' will include single-use plastic knives, forks, spoons, and chopsticks made of plastic, including standard size or mini-size cutlery or a combination of cutlery, such as sporks. There are no exemptions.
Single-use plastic plates, trays, and bowls. You can still supply single-use plastic plates, bowls and trays if either of the following apply: You are supplying them to another business; or the items are classed as packaging (pre-filled or filled at the point of sale). Examples of this type of packaging include: a pre-filled salad bowl or ready meal packaged in a tray; a plate filled at the counter of a takeaway; a tray used to deliver food. However, we strongly recommended that you look to reduce the use of these single-use items and move to reusable alternatives instead.
Ready-to-consume food and drink in single-use polystyrene food and drink containers. This includes cups. Polystyrene means expanded and extruded polystyrene. You can still supply food or drink in polystyrene containers if it needs further preparation before it is consumed. For example, further preparation could mean: adding water, microwaving or toasting.
The ban on items will include all types of single-use plastic, including biodegradable, compostable and recycled items, and those that are wholly or partly made from plastic, including coating or lining.
Common Questions and Answers
DEFRA have recently released this guide on common questions and answers on the new single-use plastic ban.
Questions and Answers
How to prepare for the ban
You can prepare your business for the new rules by:
using up existing stock before 1st October 2023
choose re-usable alternatives to single-use items
using different materials for single-use items – see our Factsheets below
If you continue to supply banned single-use plastics after 1st October 2023, you could be fined. Local authorities will carry out inspections to make sure the rules are being followed.
Inspectors can:
visit a shop or store
make test purchases
speak to staff
ask to see records
If you break the law, inspectors can order your business to cover the cost of the investigation.
Complaints about a business breaking the law can be made to Trading Standards.
Read the Government advice here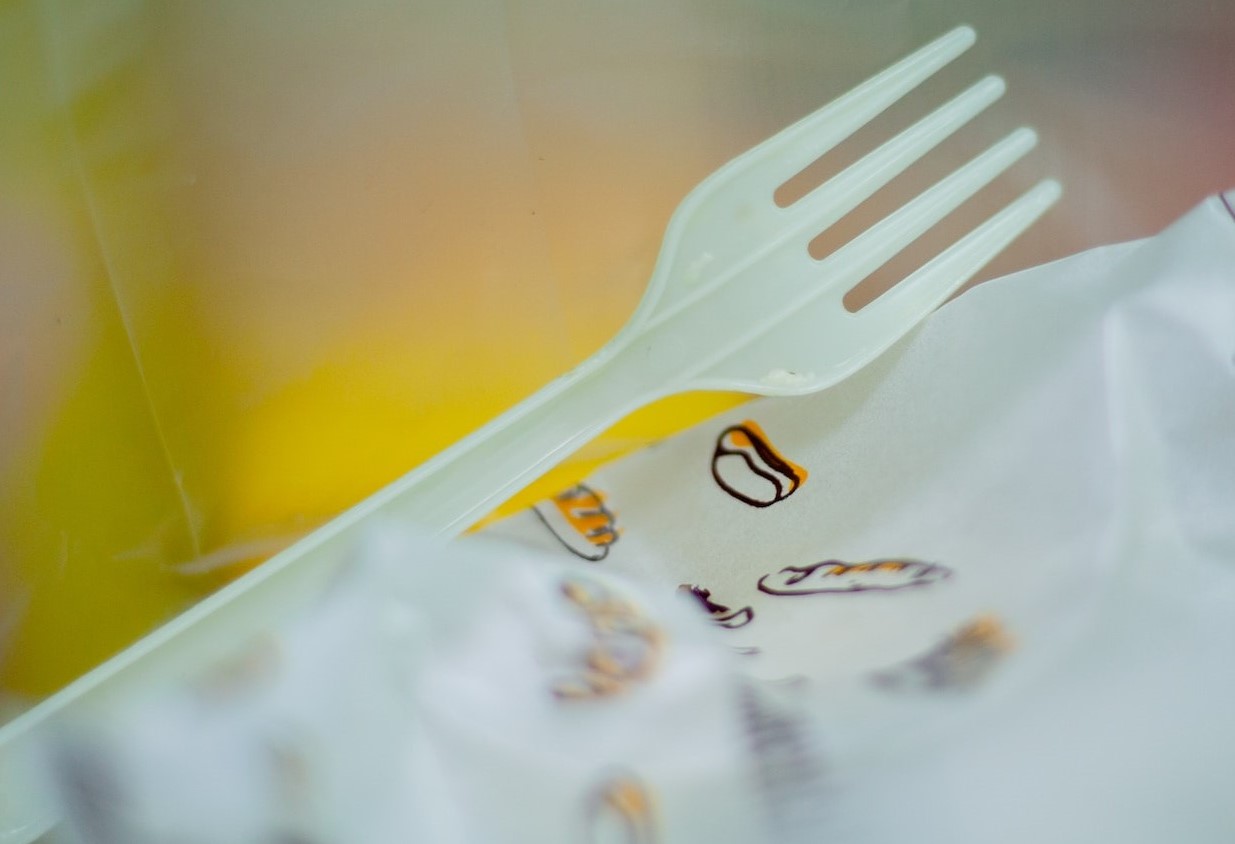 Get your business ready. #Reuse not single-use.
There are very few good alternative options available for replacing single-use plastic with sustainable disposable options. We would always advise removing these items completely or moving to reusable alternatives where possible .
You can find lots of helpful information and guidance on alternatives in our factsheets as part of our #PlasticFreeGM campaign.
Go to PlasticFreeGM
Why does the ban include plastic that is biodegradable, compostable and recycled?
The Government responded by saying…..
The position is consistent with previous restrictions on plastic straws, stirrers and cotton buds, where no such exemptions were given to these materials. Bio-based, biodegradable and compostable plastics are still plastics. Depending on the polymer, bio-based feedstocks can be used to produce the same plastics as conventional fossil-based feedstocks.
Generally, biodegradable and compostable plastics are not designed for reuse and are therefore inherently single-use in nature. Additionally, there is currently a lack of evidence these materials consistently breakdown in real world environments, as advertised, so may be a source of plastic and microplastic pollution.
Compostable plastics must be sent to an industrial composter for them to compost, so if littered in the open environment they will act much like any other plastic. In addition, because they are visibly indistinguishable from non-compostable plastics, even when they are sent to industrial composters there is no guarantee that they will not be stripped out at the start of the process and sent to landfill or incineration plants.
There is currently insufficient industrial composting capacity in England to fully manage compostable plastic, so it would not be viable to exempt this material, risking improper treatment. While some instances – for which compostable plastics are treated correctly – may exist, the capacity to justify an exemption is not proportionate.
Definitions
Plastic
A "polymer" means a substance consisting of molecules characterised by the sequence of one or more types of monomer units. Such molecules must be distributed over a range of molecular weights wherein differences in the molecular weight are primarily attributable to differences in the number of monomer units.
A polymer comprises the following:
(a) a simple weight majority of molecules containing at least three monomer units that are covalently bound to at least one other monomer unit or other reactant;
(b) less than a simple weight majority of molecules of the same molecular weight.
In the context of this definition a "monomer unit" means the reacted form of a monomer substance in a polymer.
A polymer can also contain additives necessary to preserve the stability of the polymer and impurities deriving from the manufacturing process. These stabilisers and impurities are considered to be part of the substance.
Natural polymers are understood as polymers which are the result of a polymerisation process that has taken place in nature, independent of the process with which they have been extracted. Plastics manufactured with modified natural polymers, or plastics manufactured from bio-based, fossil or synthetic starting substances are not naturally occurring and would therefore be in scope of the regulations.
'Not chemically modified' means a substance whose chemical structure remains unchanged, even if it has undergone a chemical process or treatment, or a physical mineralogical transformation, for instance to remove impurities.
A layperson's definition of plastic will be provided in forthcoming guidance.
Expanded and extruded polystyrene
Clarification of expanded and extruded polystyrene food and drinks containers is given as follows…
Part 1: Polystyrene is a polymer made from styrene monomers that can be used in a vast array of applications. Only polystyrene that has been through a foaming process will be considered in the scope of this ban. Foaming in this context should be considered a method of expansion of the material at any point during its manufacture, by any means (such as heat from steam, expansion during cooling etc.), using any blowing agent (such as butane, pentane, propane etc.). For clarity, we consider products made from polystyrene that has been expanded prior to fusion to be Expanded Polystyrene (EPS) products. Those products made from polystyrene that has first been extruded, then expanded are considered to be Extruded Polystyrene (XPS) products.
Part 2: 'Food and drinks containers' in this instance are those used to contain food or drink that is ready to be consumed without further preparation (such as takeaways). It is not our intention to ban polystyrene boxes used to transport unprocessed or unprepared food through the supply chain. For example, polystyrene boxes used by fishers to store and transport freshly caught fish are not in scope.
To be included in the ban, the products must satisfy 'Part 1' and 'Part 2'.