In the first of our Greater Manchester Green Summit 2022 preview blogs, we hear from Carlton Power, the British company that originated and is taking forward the Trafford Green Hydrogen project. Carlton Power are one of the headline sponsors for this year's Green Summit. You can register for free tickets to the Green Summit here.
Eric Adams, Projects Director at Carlton Power, explains how the company's Trafford Green Hydrogen project, potentially one of the largest to be built in the UK, can be the catalyst for the creation of a hydrogen economy in the North West over the next decade.
---
Our scheme can make an important contribution to the region's energy transition and in delivering Greater Manchester's five-year environment strategy. It's one of the reasons for our involvement with and support for this year's Green Summit.
We first announced our plans in 2020 and since then we have been working in a partnership with local stakeholders, including the Greater Manchester Combined Authority and Manchester Metropolitan University, to pull together the different elements of the scheme – technical, engineering, planning, commercial and financial. The construction of the scheme will be contingent on securing financial support from the UK Government, through its Hydrogen Investment Package.
With the strong support and encouragement of our local partners (Trafford Council, Cadent Gas and Electricity North West are also involved), we are targeting the hydrogen hub to enter commercial operation within the next 2-4 years. It will have an operating life of 15 to 20 years.
Trafford Green Hydrogen will use renewable electricity to produce green hydrogen fuel primarily for industry, with scope to expand and be used for transport and heating. It will initially feature a 20-25MW electrolyser, capable of producing around 2300 tonnes of hydrogen per annum. At full output, a 20MW electrolyser produces enough hydrogen to heat 14000 homes a year. The development will have an ultimate capacity of 200MW, which could decarbonise 12 million road miles traversed by HGVs and buses each year.
Trafford Green Hydrogen is part of the Trafford Low Carbon Energy Park, which includes the Highview Power project, the largest liquid air energy storage scheme in Europe.
The UK has ambitious, legally binding targets to achieve net zero emissions by 2050, so this scheme, and our other green hydrogen projects in the UK, will support the net zero transition and will help maintain safe supply and grid support to the electricity network.
Green hydrogen has three main benefits:
1) Using zero carbon electricity. The electrolysis process uses renewable electricity and produces no greenhouse gas emissions, providing an alternative to carbon intensive fuels.
2) Decarbonising industry. Green hydrogen can provide an alternative to natural gas in industrial processes, helping to reduce the UK's greenhouse gas emissions and increasing the country's energy security. Green hydrogen can be used in most existing industrial equipment with minimal modifications, enabling industry to move away from fossil fuels.
In the medium term, as hydrogen-powered vehicles become more widely available, green hydrogen will be a transportation fuel for large payload vehicles. It will also be possible to use hydrogen in residential properties for heating homes and other buildings.
3) Providing system flexibility. Increased electrification of power, heat and transport will require more renewable energy to be produced. As the amount of electricity produced from renewable sources increases, production will, at times, exceed demand. Green hydrogen enables electricity generated from renewable sources to be stored and distributed, when required, during periods of low renewables output.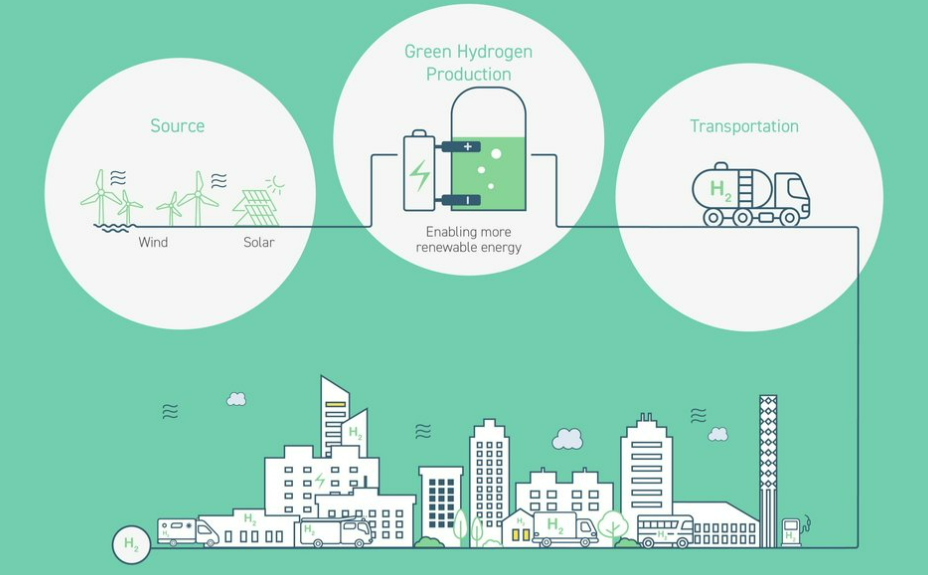 Trafford Green Hydrogen is central to the decarbonisation of Greater Manchester. It will enable first movers to begin their transition to net zero and establish a hydrogen economy in the region. This will help to level up skills in Manchester, help to develop lasting high-skilled green jobs, enable a just transition and strengthen local businesses.
Eric Adams, Carlton Power
Carlton Power Group is an independent and integrated developer, owner and operator of low carbon generating assets. A UK company formed in 1995, it is headquartered in Stokesley, North Yorkshire.