Our Natural Environment
Our natural environment gives us so much. Without nature, we wouldn't have clean water, clean air, food, timber, flood protection or green spaces to relax in. The value of nature and the benefits it brings need protecting and enhancing.
What do people mean when they talk about the 'natural environment'?
Nature encompasses everything from forests and fields to rivers and reed beds. But it also includes canals and reservoirs, and urban green space, such as gardens, parks and street trees. It's the air we breathe, the water we drink, and the soil we dig in our allotments and the earth we build on.
Within the boundaries of Greater Manchester, there are:
3 European Special Areas of Conservation
1 European Special Protection Area (2 Phases)
large parts of the South Pennines Integrated Biodiversity Delivery Area
23 Sites of Special Scientific Interest
534 Sites of Biological Importance
73 Local Nature Reserves
major river corridors including the Mersey
a wide range of public parks and private gardens
Why is our environment so important?
Green and blue spaces make up half our city region. Nature cleans our air and locks up carbon and is proven to make us happier and healthier. Every year, our environment gives us £44m of food and reduces the financial risk of flooding by £6m. Nature makes us happier. Nature is good for our economy. Nature fights climate change. But nature is being lost.
Opportunities and challenges
Opportunities
What does the natural environment give to us?
For many of us, the natural environment is worth conserving and enhancing in its own right. Whether we are talking about officially recognised conservation sites, or just our back gardens, a high quality natural environment is vital for us all.
It provides us with all the necessities of life: air, water, fuel, building materials, clothes, chemicals, and food. But it also provides all those things that make life more enjoyable, whether it is bicycles, beer or even music. And when it comes to quality of life, most of us enjoy the simple things like parks, gardens, rivers and trees.
The natural environment does more than this, though. It underpins our whole economy and way of life. An attractive natural environment encourages tourism in Greater Manchester, because visitors like the same things as residents, trees and parks and attractive, accessible waterways. And there is plenty of evidence that a good quality natural environment attracts investment too. It helps keep work forces happy and healthy; and services businesses, wherever they come from.
In recent years, it has become clear that, access to good quality green space, where people can exercise or just relax, can lower blood pressure and cholesterol levels – and thereby the incidence of heart attacks and strokes – and support good mental health. It has been estimated that if only every household in the UK had access to a decent park or the use of a garden, it could save the NHS around £2 billion every year.
Our education too benefits from our natural environment; whether it's for kids, who love leaving the classroom for a field trip to the local nature reserve; or for adults, who can learn skills related to the environment, thereby further supporting the local economy.
Challenges 
What are Greater Manchester's biggest threats? 
Greater Manchester's urban form and industrial past pose challenges. Rates of obesity, cancer and heart disease are significantly higher than the national average, and life expectancy at birth is the lowest in England. Within Greater Manchester, there is a gap in life expectancy of almost six years between the poorest and most affluent areas.
36% of the population of Greater Manchester lives in a neighbourhood that ranks among the 20% most deprived nationally. While one in five people (22%) live in a neighbourhood in the 10% most deprived.
Access to nature, air quality, land contamination, climate resilience and biodiversity all pose challenges. This is not simply a problem for environmentalists, it is a problem for all of us. Which is why the Greater Manchester Local Nature Partnership has built a network across a number of different sectors to tackle the problems we face.
Projects
Supporting Greater Manchester's natural environment and amazing green spaces.
Our natural environment is precious. It provides us with clean water, clean air and flood protection. Getting outdoors can also improve our physical health and mental wellbeing. That's why we are committed to supporting projects across Greater Manchester that promote our environment and protect and enhance nature.
Take a look at the great work taking place across the city-region and we are all working together to make a difference….
NATURAL CAPITAL GROUP
Who we are
The Greater Manchester Natural Capital Group is an ambassador for the natural environment. It is one of 48 Local Nature Partnerships around England and is made up of representatives from the public, private and third sectors who are all working together to protect nature. The group gives advice to the GMCA on natural environment issues including how to stop the effects of climate change and lower emissions.
The Greater Manchester Natural Capital Group and its partners have produced evidence that helps us shape environmental policy. This evidence shows us the opportunities and challenges we face when protecting our natural environment.
Natural Capital Group area
The Greater Manchester Natural Capital Group is set in the economic powerhouse of the North – covering 493 square miles and 10 districts. Most of Greater Manchester's landscape is urban or high-density urban. It is home to some 2.7 million people and a GVA of £56 billion, representing the largest functional economic area outside London.
However, there is also a wide and varied range of wildlife and natural habitats.
These landscapes cross borough boundaries within Greater Manchester and beyond. The Cheshire Plain, the West Pennine Moors and the Mersey River Corridor surround Greater Manchester. The Local Nature Partnership boundary adjoins and overlaps the proposed South Pennines and Peak District National Park Local Nature Partnerships.
Types of wildlife and natural habitats:
Moorlands
Reed beds
Mature woodland and wooded valleys
Scrubland and grassland
High moorland
Mossland
Agricultural land
Lakes and wetlands
River valleys
Urban parks
Suburban gardens
Our Partners
For practical purposes, the day-to-day business of the Group is overseen by a Partnership Board made up of key partners from across the public, private, third sectors and academia. It is chaired by Anne Selby (Independent).
For practical purposes, the day-to-day business of the Group is overseen by a Partnership Board made up of key partners from across the public, private, third sectors and academia. It is chaired by Anne Selby (Independent).
Behind the Group, there is a wider Partnership. This is open to any organisation to join, providing only that they accept the basic principles on which it has been set up. A key role of the Group is to provide a forum and means of communication that has enabled its members to link up or come together to share knowledge and good practice.
Our partners are:
Local Nature Partnerships
Local Nature Partnerships (LNPs) bring together local organisations, businesses and people who want to improve their local natural environment. The Greater Manchester Natural Capital Group coordinates the LNP across our city region. We link up partners to strengthen local action and protect and improve their area's natural environment.
LNPs are very valuable for the environment, as they:
Raise awareness of the services and benefits of a healthy natural environment
Contribute to the green economy
Complement the work of local enterprise partnerships
Why are LNPs so important?
Read 'The Natural Choice: securing the value of nature'.
Get involved
Greater Manchester has many different volunteering opportunities. Take a look to see how you can protect and enhance Greater Manchester's special nature and amazing places.
Volunteering opportunities
DISCOVER NATURE IN GREATER MANCHESTER
Greater Manchester is home to a wide variety of wildlife and natural habitats. Take a look at the best places to explore nature, have a fun day out or even take a mini wildlife break.
Top 5 walks with a view in Greater Manchester
Here are five walks in Greater Manchester that take in a beautiful view including woodlands, waterways and historic buildings.
View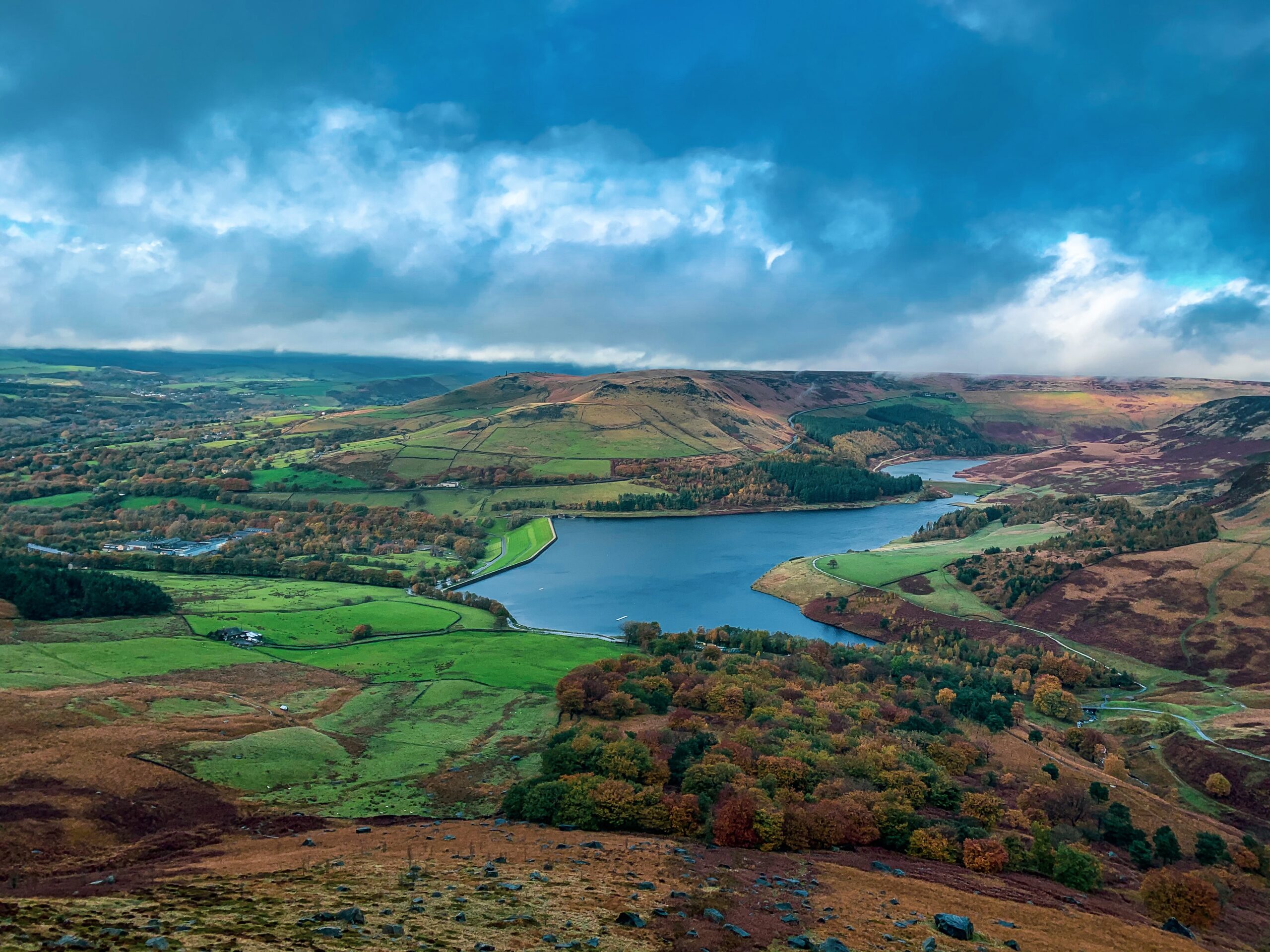 Natural Environment Near You
Take a look at the best places to explore nature, have a fun day out or even take a mini wildlife break. Each of Greater Manchester's 10 districts have dedicated webpages where you can find out where to explore local parks and open spaces.
Greater Manchester Peat Pilot
Through the Defra Greater Manchester Peat Pilot project, Natural England has mapped the size and condition of peatlands across our city region. This key research highlights the huge potential of peat in helping us meet net zero emissions by 2038.
Find out more